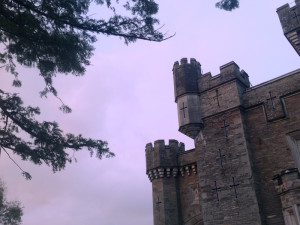 Wray Castle is a victorian folly on Lake Windermere. Built in 1840 by Dr. Dawson, a retired surgeon from Liverpool and his wife, the mock-gothic fantasy castle also featured a walled garden, a church, double boathouse and fernery. The National Trust acquired the castle in 1929, and has since been home to the Freshwater Biological Association, the Merchant Navy to train radio officers as RMS Wray Castle, used as a conference centre and is now a family friendly visitor attraction.
In 2015 – 2016 artists Glenn Boulter, Ross Dalziel, Hwa Young Jung from the collective Domestic Science are looking at the multiple timelines and tenants of Wray Castle.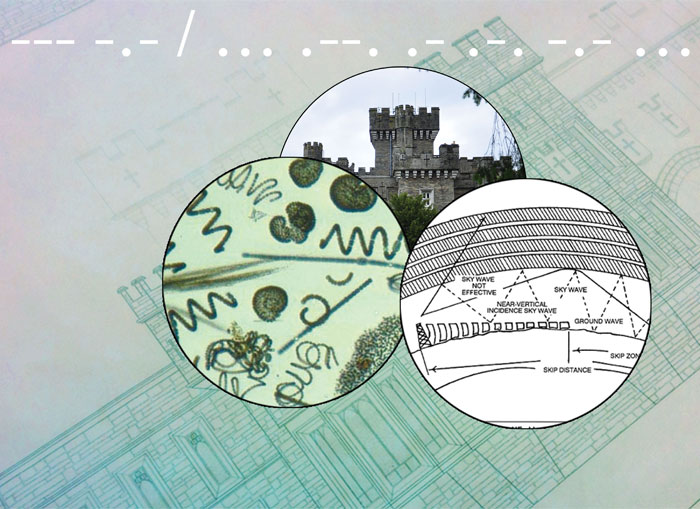 Over two weekends in May artists, scientists and local radio experts will help you explore the lesser known history of the site: discover local freshwater biology, use Morse code, communicate over a temporary Wray Castle radio station, GB2WCR, explore sensor networks, play mobile Text Adventure games and a Minecraft radio treasure hunt to investigate the hidden histories of a special place in the Lake District with a unique role in the history of science and communication.
7th/8th/14th/15th May 2016
10:30am-16:30pm
Drop in / Free with General Admission
The Wray Castle Text Adventure is a mobile interactive story encouraging young people to explore the castle's unique architecture and learn about some of it's former inhabitants.
Aimed at younger visitors (5-10), the game will centre around a gentle ghost story including some simple freshwater biology and radio operating-themed puzzles. Players will also be quizzed on details from specific rooms in order to progress through the game. Read more about this event.
Visitors can find us in the Castle Building Room on weekend 1 and the Morning room on Weekend 2 to download the game to their mobile device or borrow a tablet.
Saturday 7th May 2016
10:30am – 16:30pm
Drop in / Free with General Admission
Free activity reflecting on the past of the Merchant Navy at Wray Castle with Furness Amateur Radio Society (FARS) an active community who recently celebrated 100 years of Amateur Radio in Furness in 2013. Barrow Wireless Association was one of the first amateur radio clubs to be issued with a transmitting licence in the UK, on the 26th June 1913.
Experience a special OFCOM licensed Wray Castle Radio station, call sign GB2WCR, send radio messages to Minecraft, meet people from RMS Wray Castle, play with simple messaging equipment and learn about the continued importance of radio culture. Read more about this event.
Ok Sparks! Day 2
Sunday 8th May 2016
1030pm – 16.30pm
Drop in / Free with General Admission
Continue to explore DIY radio culture with special guests and the Minecraft Radio Treasure Hunt
14th & 15th May 2016
1:30pm – 4:30pm
Bookable on Eventbrite at £4.50 plus General Admission
Re-creating the "Easter Class", an introduction to freshwater biology with scientists from the Freshwater Biological Association
Investigate the ecology of the Lakes with hands on activities about chemistry, algae, fish, invertebrates and more. Explore the impact of the lake ecosystem and the role of limnology. Read more about this event.
Free limited places, booking required.
Minecraft Treasure Hunt
Saturday 7th – Sunday 8th May 2016
12:30pm, 14:30pm, 15:30pm
Drop in / Free with General Admission
Special Minecraft blocks have been hidden around the castle: when you find them low power radio modules send a message to a local Minecraft server and reveal hidden treasure and information about Wray Castle's past.
The Domestic Science Tiffin kit
Limited edition Domestic Science kits available to order to continue the fun at home!
@ok_sparks #oksparks