Metal Culture Time & Space research and development residency (May – October 2019) exploring a proposal to shift the values around work, labour, and productivity. Examine artistic implications for change at a systemic level, as well as at an individual level, by piloting a project which examines the 4 day working week. The residency will look at the needs for cultural organisations to make shifts in operations and the potential barriers and pitfalls within societal norms that they might face. The project also reflects upon the deeper adaptation that is needed in wider society to combat climate change.
During her residency with Metal Liverpool, Hwa Young will lead activity across the organisation to create a proposal for such a system change. She will host dinners, conduct surveys and talk with staff at all levels, in order to create a proposal for a 4 day working week, without reduction in pay, that could feasibly be applied within the cultural sector.
4 Day Working Week is better for the climate.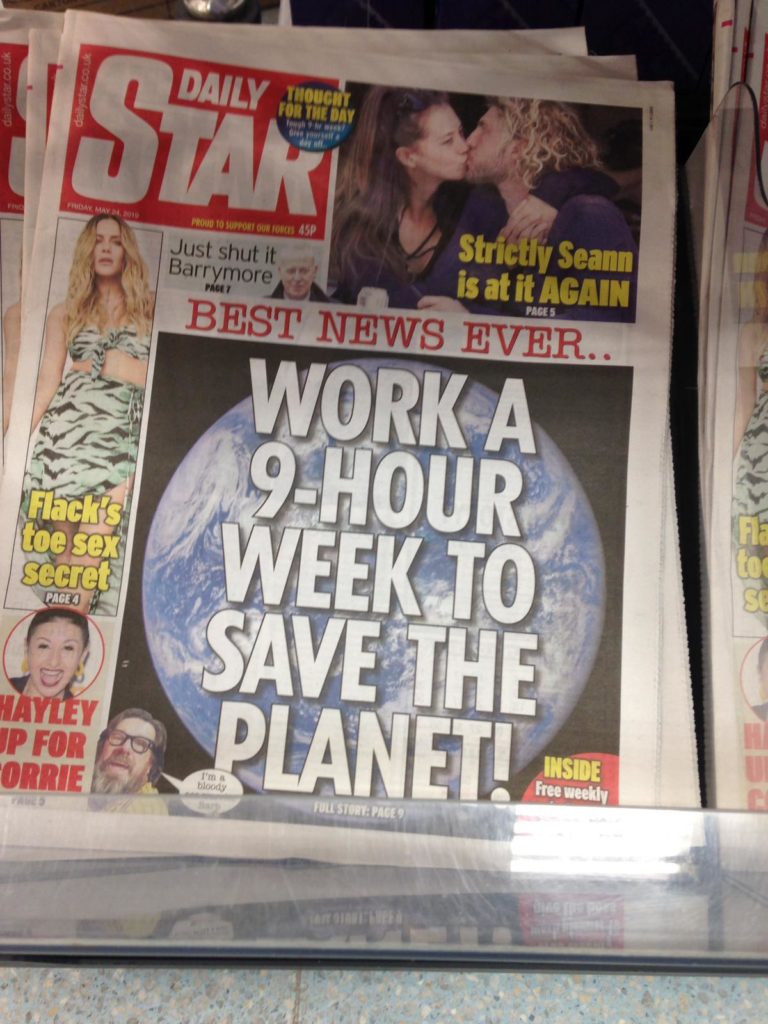 There is growing interest and pilot cases for a 4 day working week – with benefits in productivity, well-being, environment and happiness. The practicalities might be difficult, but the ethos of Metal is to 'provide the catalyst that can transform the potential of people and places through great art and inspiring ideas'. An ethos that seems fitting to the aims of the project.
According to think tank Autonomy, existing companies experimenting with 4 day weeks or reduced work hours have had overall positive results. It seems like a win-win-win situation, yet The Wellcome Trustrecently decided against a 4 day week after a feasibility study concluded the 800 employee charity, with workers carrying out a wide range of functions, found it too difficult. So, what are the barriers to change? Can art help shift values around work, labour, productivity and a life well lived? What are the factors that makes the 4 day week successful for companies?
Further reading / media
"The chief advantage that would result from the establishment of Socialism is, undoubtedly, the fact that Socialism would relieve us from that sordid necessity of living for others which, in the present condition of things, presses so hardly upon almost everybody."
Oscar Wilde The Soul of Man under Socialism

One to One – Working too hard? The four-day week – BBC Sounds
Lord Skidelsky, the economist, tells Helen Lewis about his inquiry into the four-day week.